Say Goodbye to the Monotonous & Mundane
The Virtual Enrichment Program makes Homeschooling FUN & MEMORABLE

Get 50% off your first month with
Coupon Code FALL50

Enrichment is essential for your homeschool.

All children need access to high quality & engaging enrichment classes in order for you to have a well-rounded education.
The problem is, in order to include these subjects homeschool you often need to search endlessly online or run all over town to include everything for all your children.
It doesn't have to be that way!
When you join The Hands-on Homeschool Virtual Enrichment Program you will finally be able to easily bring these subjects into your home on your schedule.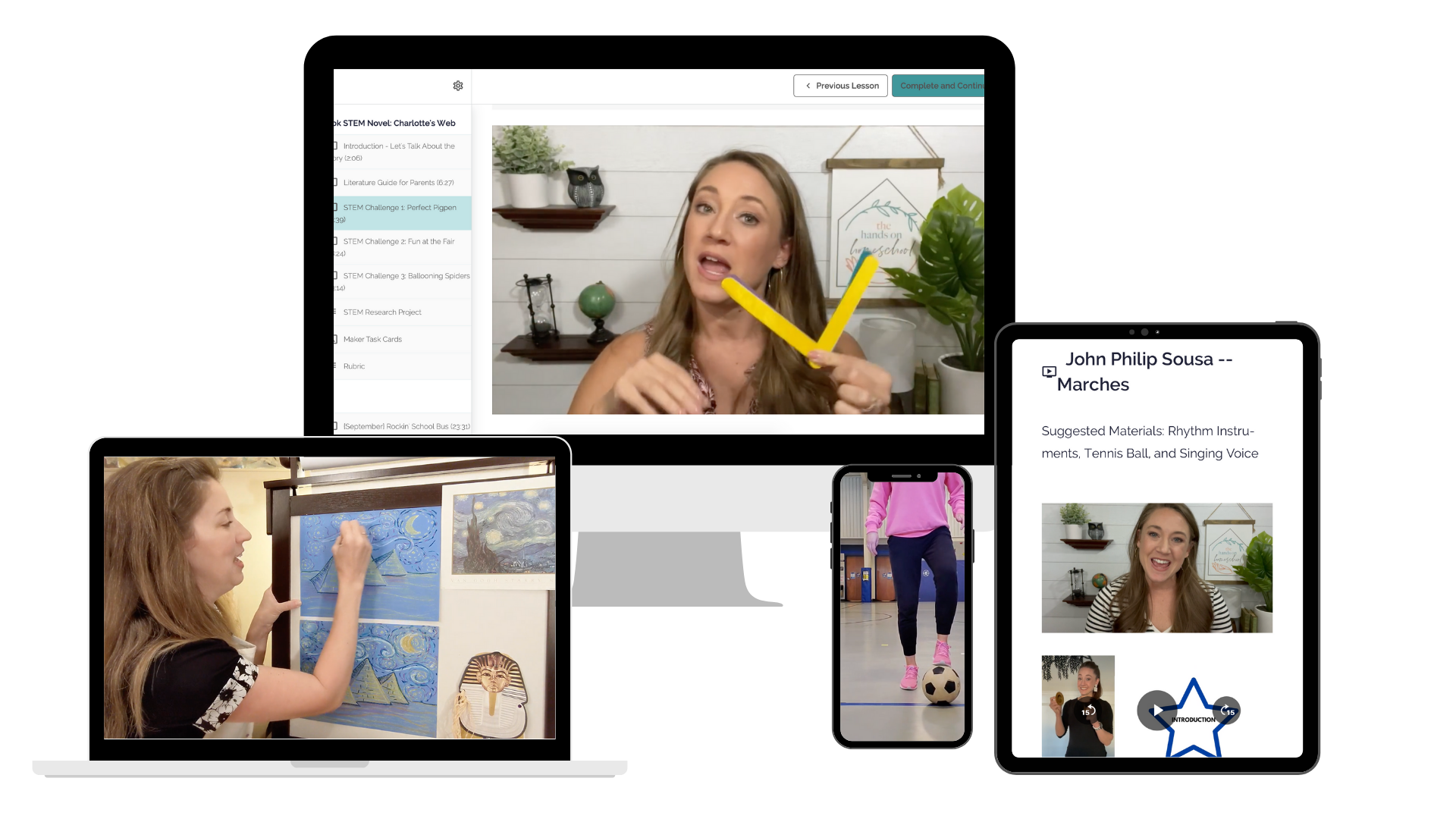 Introducing
The Hands-on
Homeschool Virtual Enrichment Program
The Hands-on Homeschool Virtual Enrichment Program is your solution to providing your kids with the BEST hands-on enrichment classes in Music, Art, STEM & PE with EASE so you don't have to run all over town or search endlessly online.

When you join The Hands-on Homeschool Virtual Enrichment Program you will get:
Access to an expansive library of Music, STEM, Art, and PE classes -- DONE for you!
Self-paced curriculum -- easily organized, and Flexible to YOUR schedule
SUPPORT from the teachers
Hands-on activities that are NO STRESS

It's all done for you, so you can actually enjoy your homeschool days with your kids!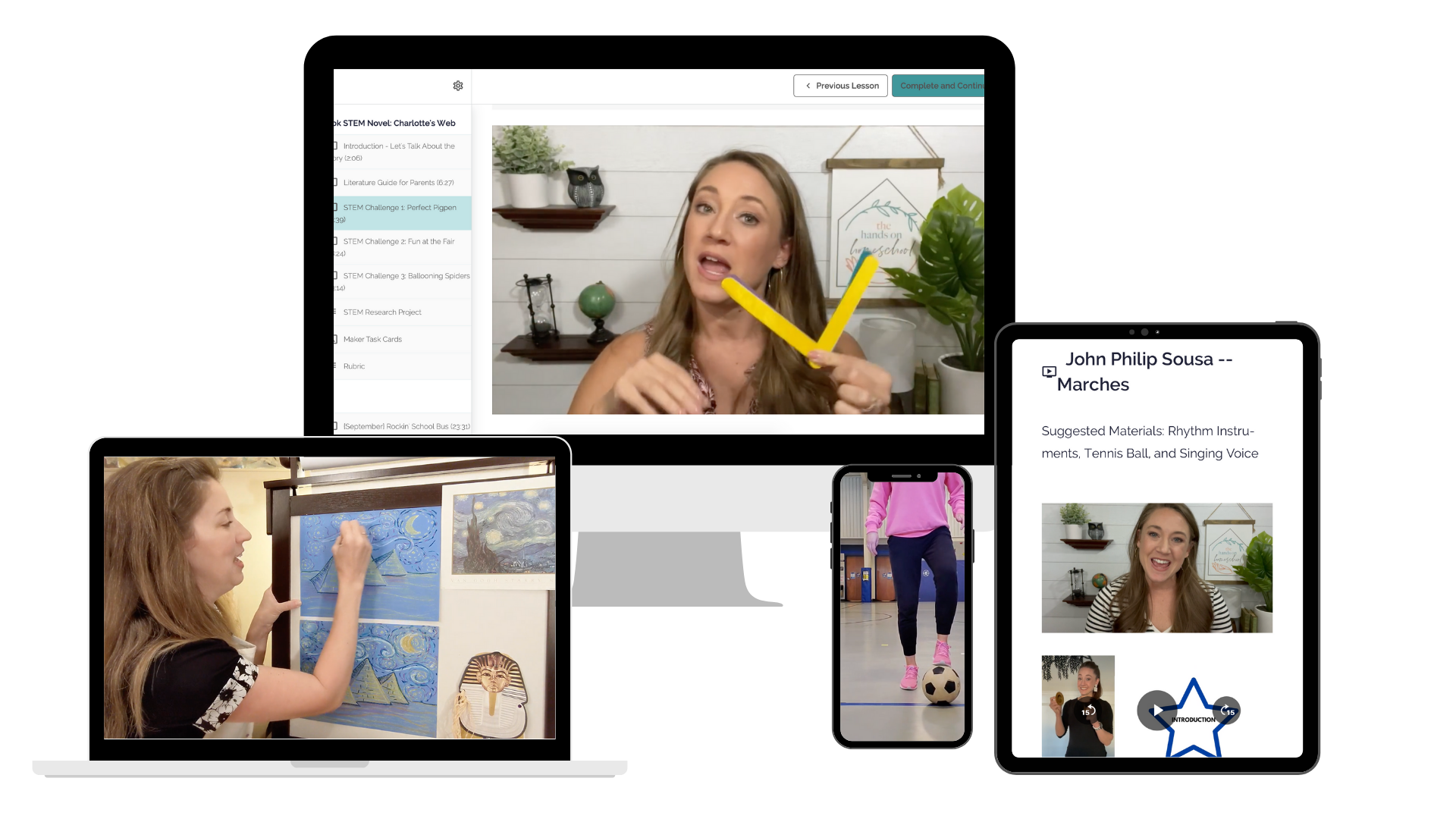 Join
The Hands-on
Homeschool Virtual Enrichment Program
Choose from a Pricing Plan below.
All of our pricing options comes with a 30 day, no questions asked, money-back guarantee.
Use Coupon Code FALL50 to save 50% off the first month of the Monthly Subscription Plan.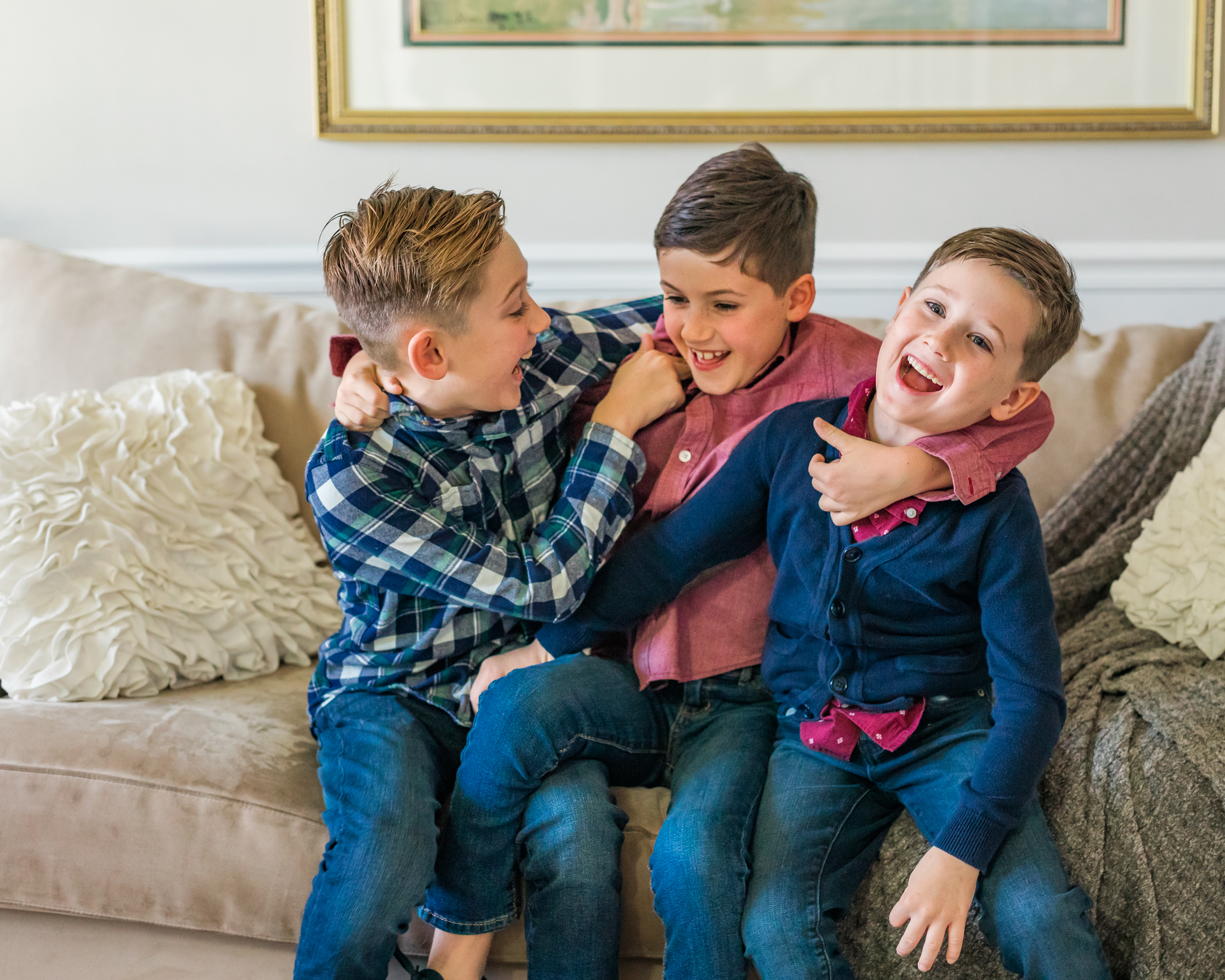 Homeschooling Can Be Hard.
There are so many great things we want to teach and do with our kids, but once we get going we realize that there isn't always time to do the enrichment learning that led us to start homeschooling in the first place!
We are here to lighten your load! We teach the subjects you want to include, but may not know how to plan or teach.
Our program offers everything you need for the enrichment areas of Music, PE, Art, & STEM.
By allowing us to teach these subjects, you will give yourself more time to creatively plan hands-on activities in the other subject areas.
The result? A well-rounded, hands-on education that allows you and your children to thrive while keeping things simple, low-prep, and low stress. 

I am the creator of The Hands-on Homeschool. I love to partner with parents to help them bring the best education possible in their homes.
I am passionate about teaching, and I want EVERY family to have access to the best education possible!
I have taken everything I've learned from the past 20+ years of teaching privately, in schools, and homeschool and blended it all together to create a homeschool program that includes high quality teaching for homeschool families that does not require a lot of stress or lead to overwhelm!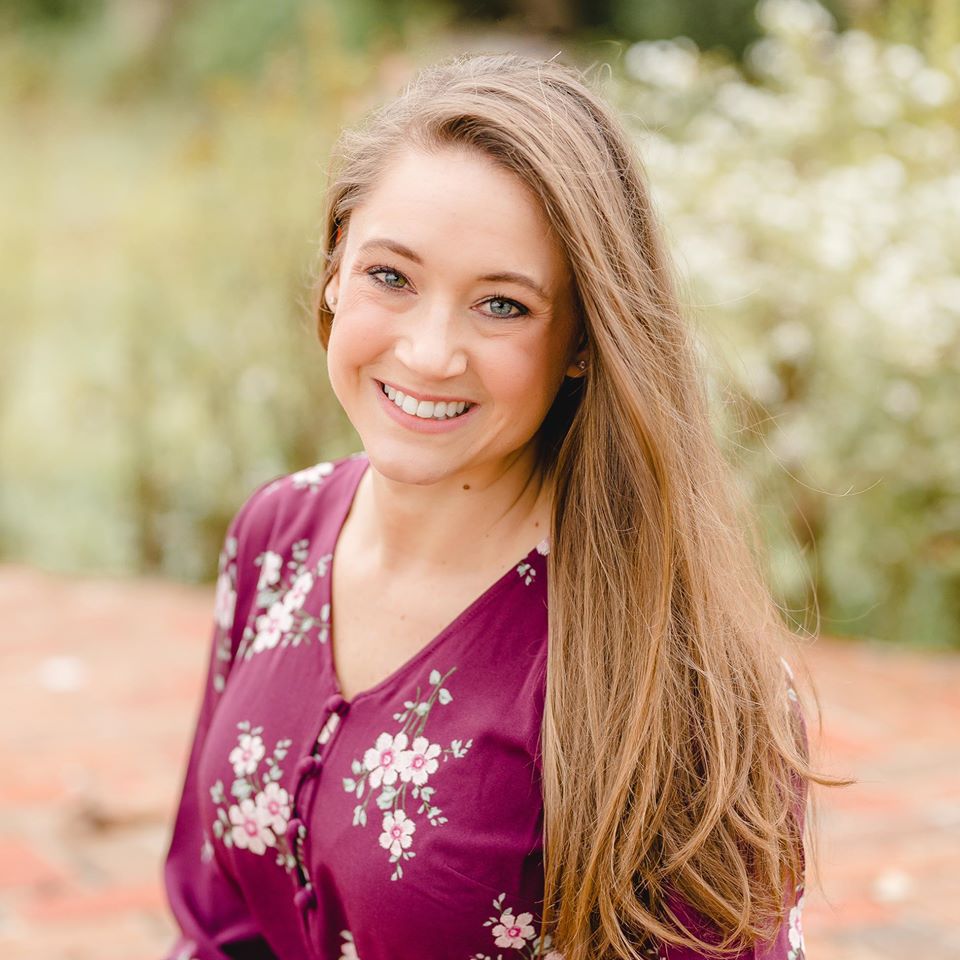 Meet Amy, Homeschool Mom of 5 and
Member of The Hands-on Homeschool
30 Day Money Back Guarantee
Plus, It's Easy to Cancel if It Doesn't Work for You!

What our Members Have Been Saying
There are many things I love about The Hands-on Homeschool Program; the opportunity to learn, grow and challenge my kids are just a few. I love that this Virtual Enrichment Program is self-paced.
Our family has learned that regular co-ops can be overwhelming at times and just too busy for us. Slowing down to understand and connect is so important.
We've also learned that in the past, driving to extracurricular activities during the week takes up a ton of valuable time.
We have everything we need in The Hands-on Homeschool Community. It also gives my brain a break when trying to plan daily activities. It's such a flexible resource and we really enjoy every minute of it!
My kids and I love The Hands on Homeschool! It's low-stress and low-prep for me as a mom, but so engaging and educational for them! My boys especially love STEM and Art and creating whatever Rachel and Kathryn have planned for them. I recommend it to all my homeschool (and non-homeschooling!) friends!
Joining this group was THE BEST fresh idea for our school year. It has been such a joy and so inspiring for my kids.
I can't thank this program enough for the cool activities my kids get to do! I would have never been able to get them to focus this much on a project! 
I love that I do not have to prepare for these classes. I simply just had to look over the supply list to make sure we had everything at home, and we did!
I love that we have access to educational and fun classes on hand!
We are just loving the Virtual Enrichment Program! It's been so nice to have a class planned for our afternoons that I know we will ALL enjoy! Thank you ladies!!! You are all wonderful teachers! This is way more enjoyable than me scrambling on YouTube to find projects/lessons! 
It helps both me and the kids to start the day with enrichment stuff. It's been really nice to start with something creative or with movement. Gets the juices flowing! 
I love the variety and in-depth education given in each lesson. For STEM my kiddos enjoy the books and challenge the most.
I really wanted to regularly incorporate music/art/steam into our homeschool AND I wanted join a co-op this year. Loved the idea of a virtual enrichment program and access to these lessons. Thank you!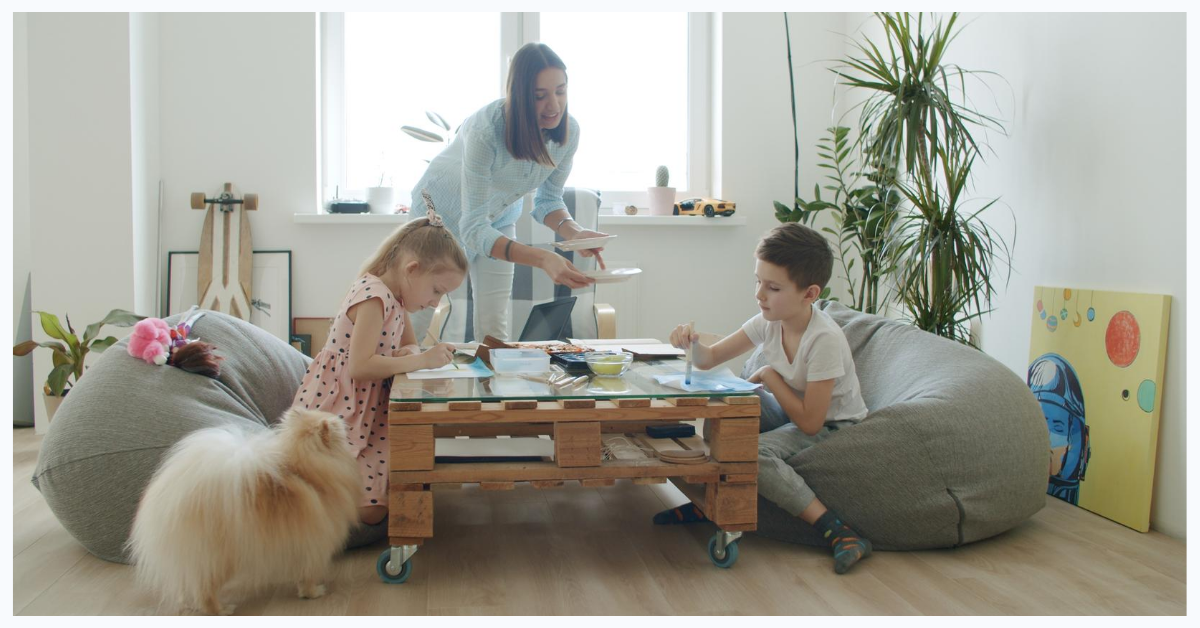 "I'll do this myself! I can find these types of lessons online somewhere!"
"I have that curriculum that I bought and we barely used last year. I'll get that out and make a point to use it this year."
"I just won't include that subject this year and concentrate on other things. Maybe next year."
"We'll find a class in town to join."
If that is what you're thinking, you are not alone! I have thought these same things.
But, I want you to avoid the struggle that often comes with those solutions. I want you to relax and enjoy these lessons with your children. And I want your kids to experience these subjects in a way that they might not get with those other options.
So, enrich your children's lives with Music and Art lessons. Teach them creative problem-solving skills with STEM class. Get them moving, learning about sports and health in PE.
Most of all, I want you to have sweet days with your children. Time spent together, learning beautiful and wonderful things along with your core curriculum choices. I want this program to breathe new life into your homeschool.

At The Hands-on Homeschool, we want to make things easy, organized, and affordable!
When you join, you will have one place for ALL of your enrichment classes. No more running all over town or pulling up multiple websites and remembering live class schedules!
Plus, you have the option to completely customize your Virtual Enrichment experience. Follow our plan or jump around to create your own.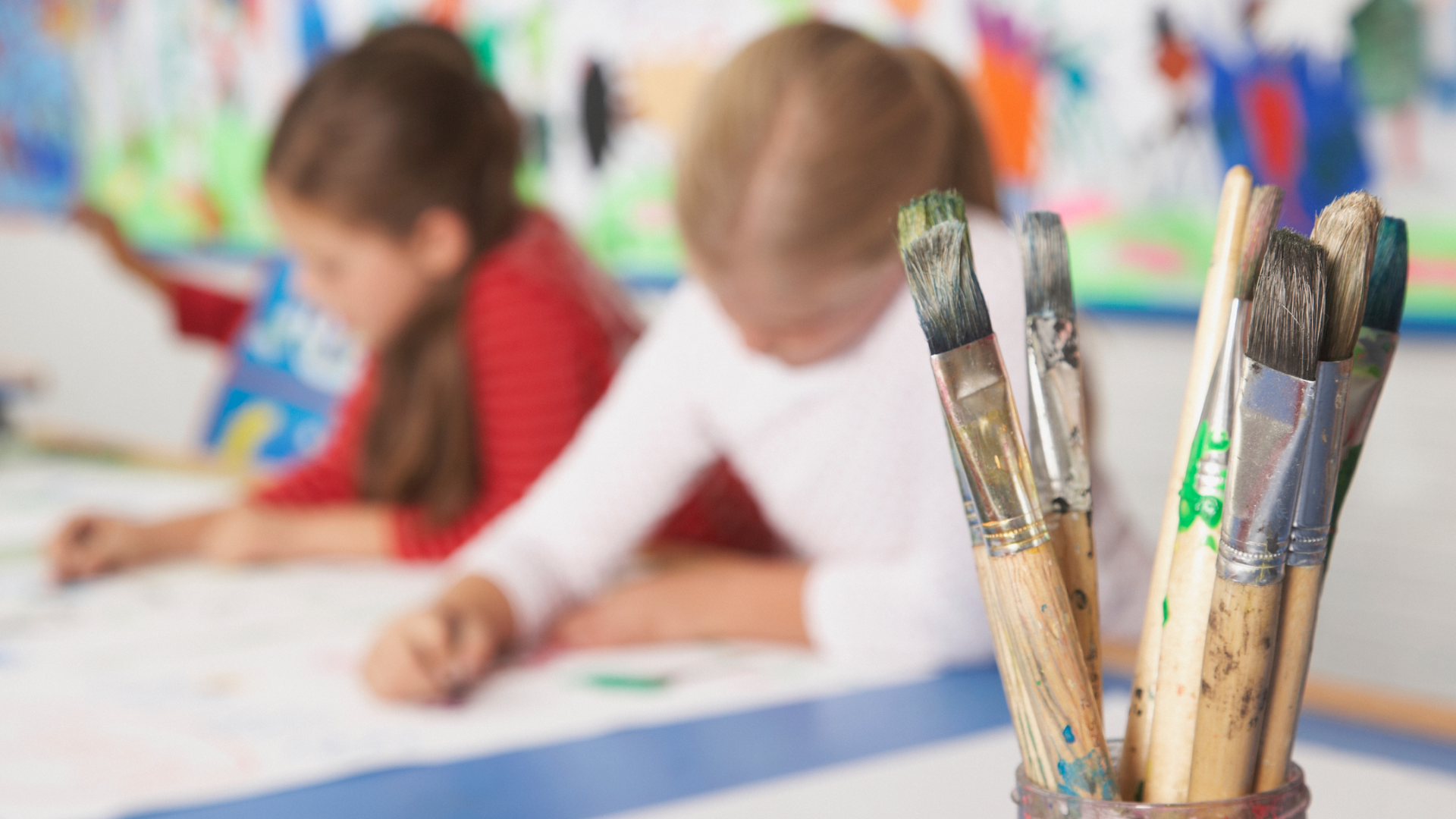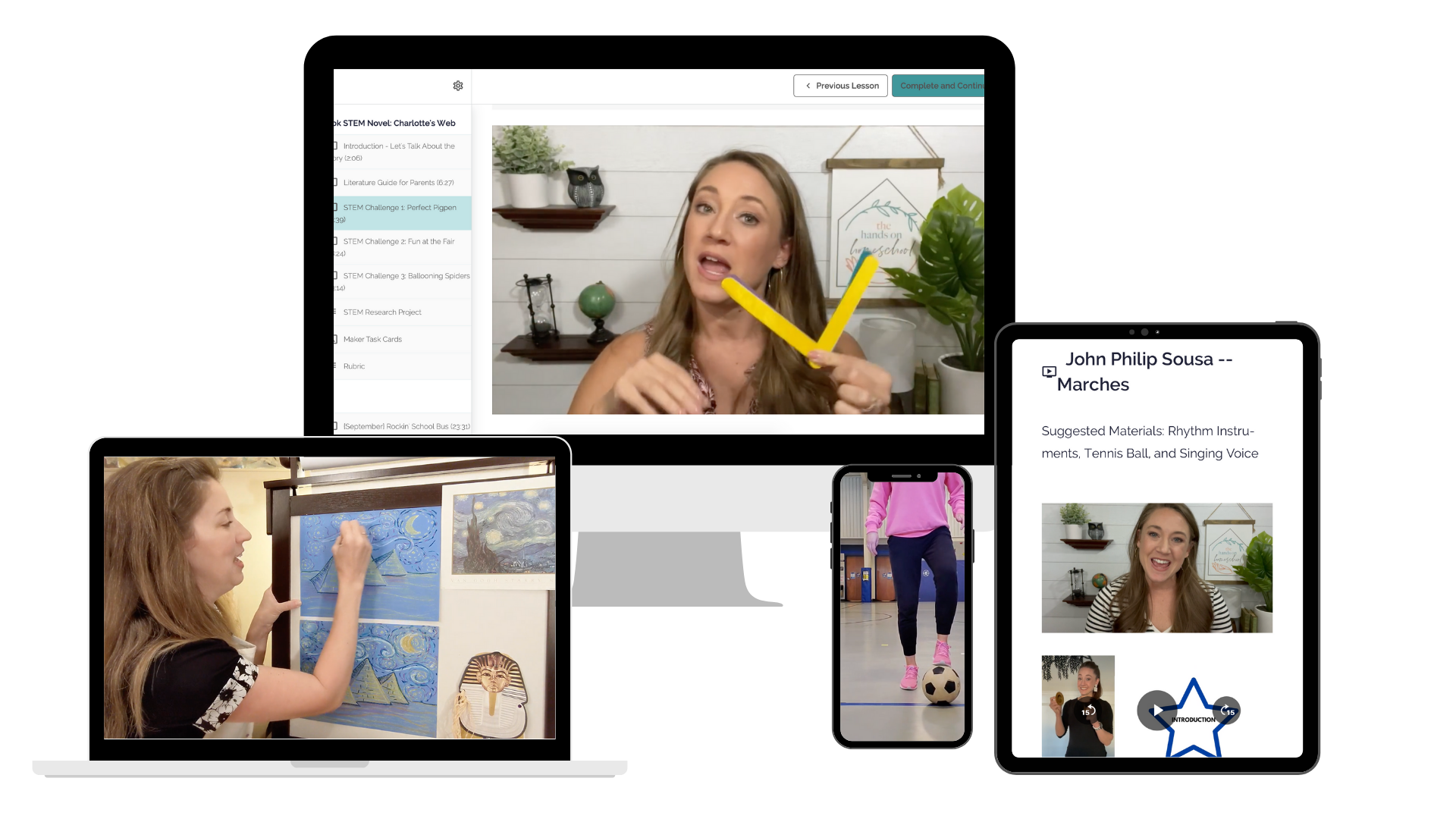 Join
The Hands-on
Homeschool Virtual Enrichment Program
Choose from a Pricing Plan below.
All of our pricing options comes with a 30 day, no questions asked, money-back guarantee.
Use Coupon Code FALL50 to save 50% off the first month of the Monthly Subscription Plan.

PLUS Your Family will Receive Access to the
LEGO Back to School
September STEM Challenge
Only available for a limited time!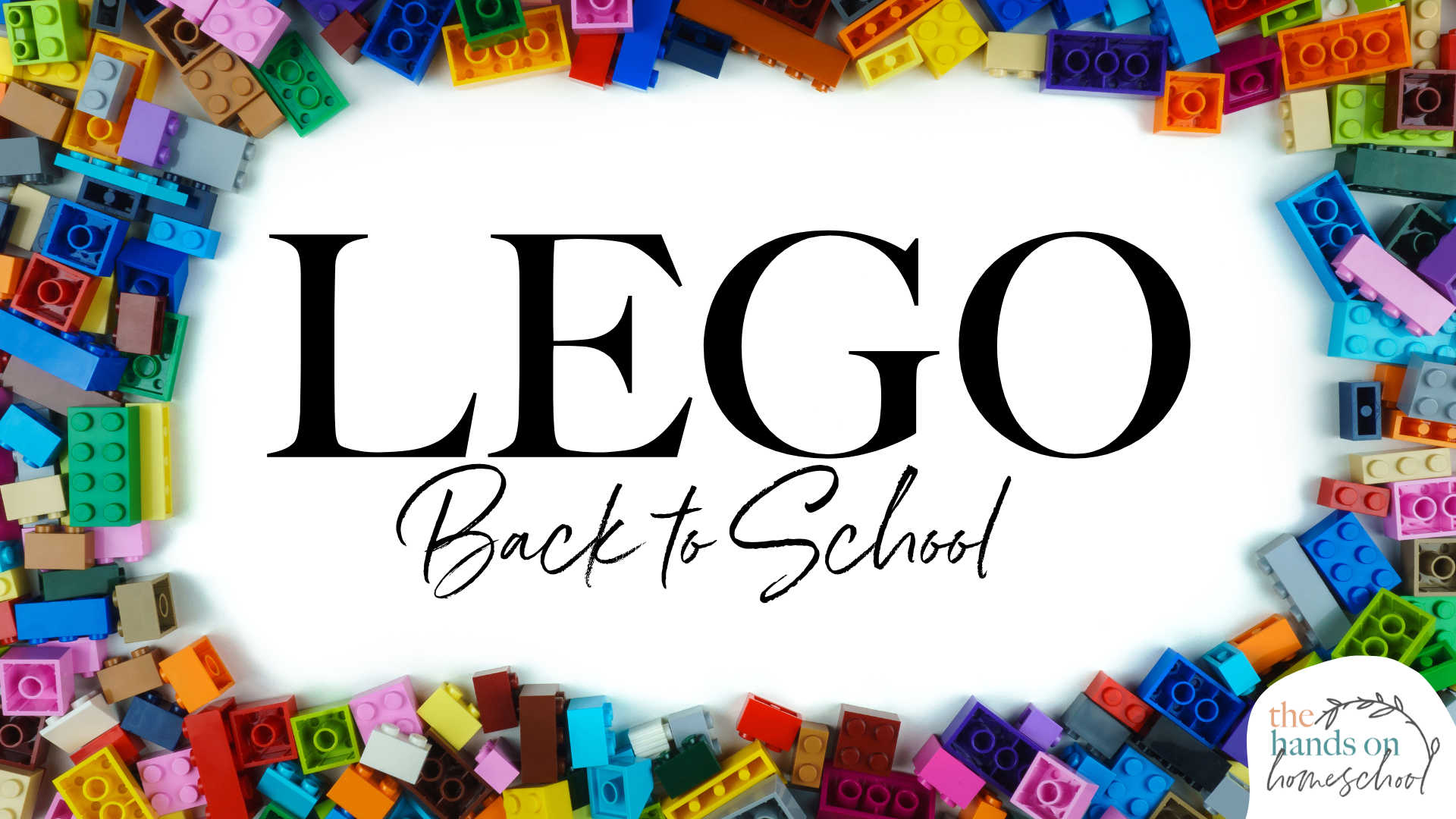 LEGO Back to School!

Start your school year in a FUN & engaging way with our LEGO Back to School Challenge!
This month long STEM Challenge will ONLY be available during the month of September.
We will kick each week off with a short lesson highlighting the THEME of the week and every day has a challenge related to that theme!
What a fun way to start the school year!


Not only will you be getting these amazing classes for your kids, but we also want to help YOU as the homeschool parent!
Check out these AMAZING bonuses you get for FREE when you join our Enrichment Program!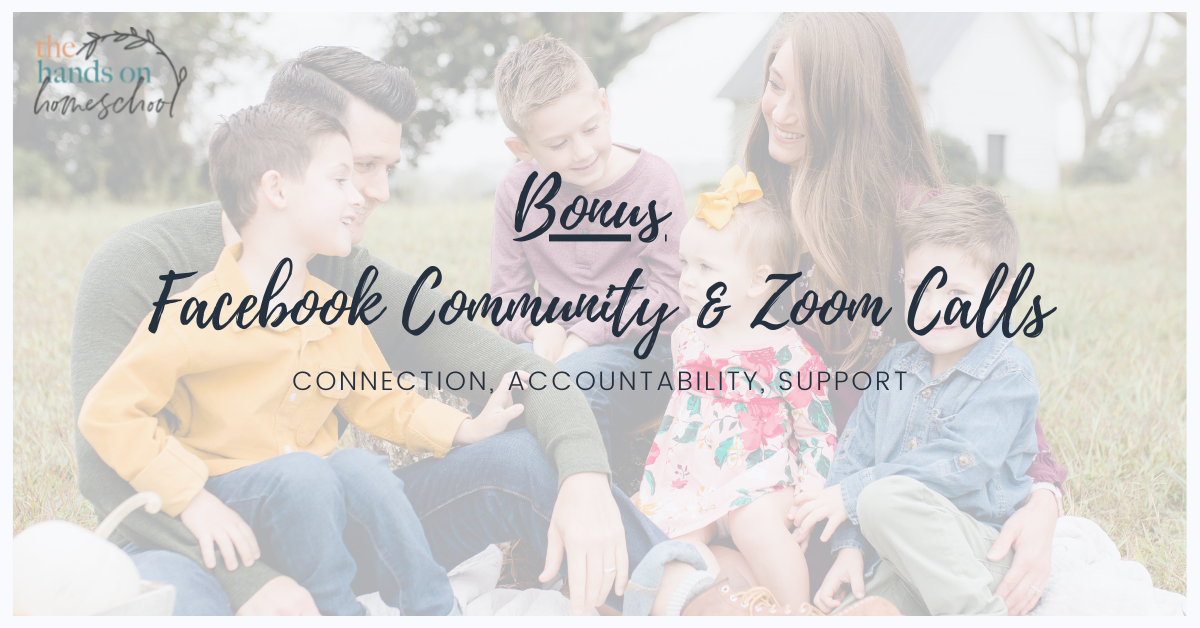 Supportive Online Community
Get the support you need from our teachers and other like-minded parents!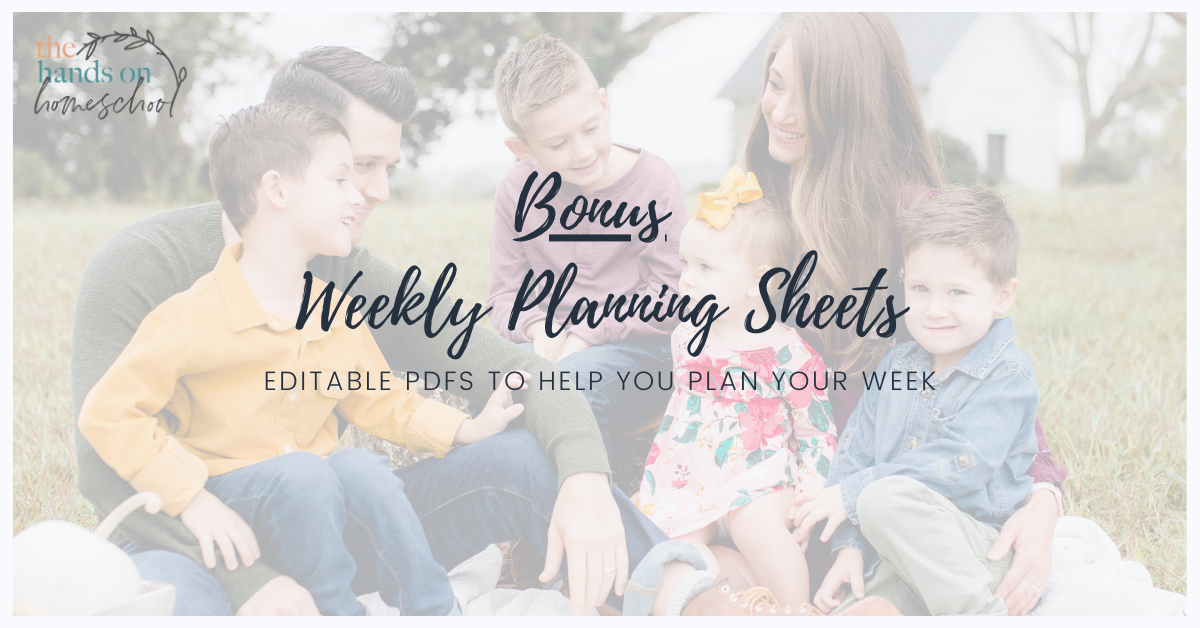 Easy, Editable Templates for Planning and Keeping Track of Learning
Are you confused about how to plan your homeschool days and weeks? How can you keep track of your kids' learning and attendance? These editable templates will help you keep everything straight!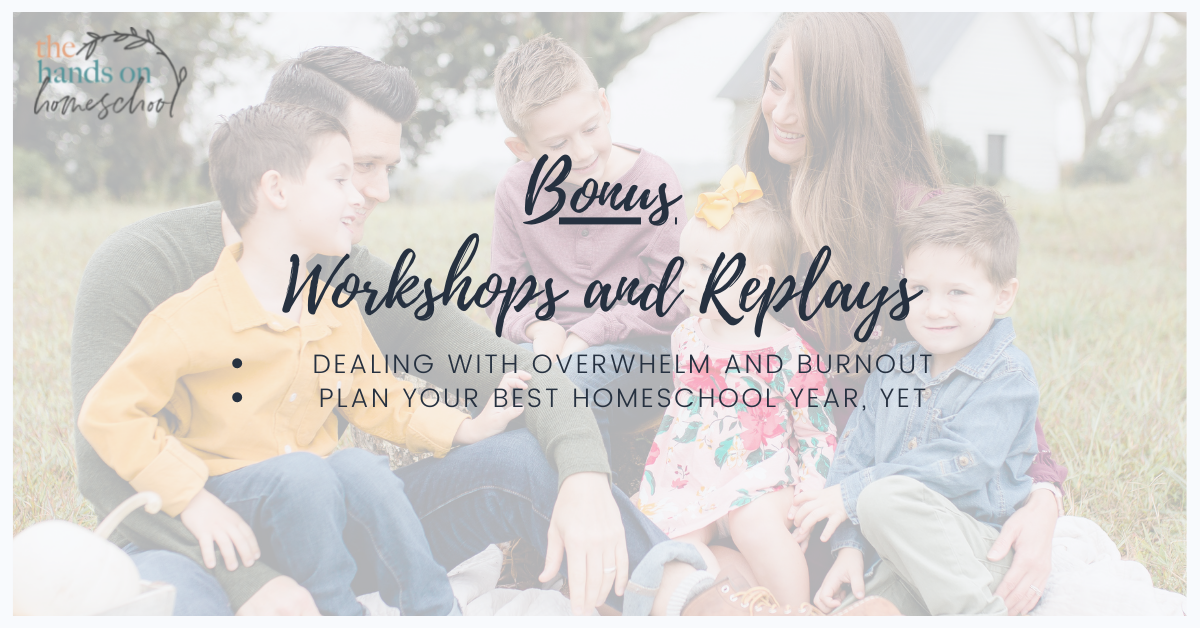 Growing List of Workshops
These workshops will help you as you homeschool! So far, we have workshops on planning your best year, yet and dealing with overwhelm and burnout!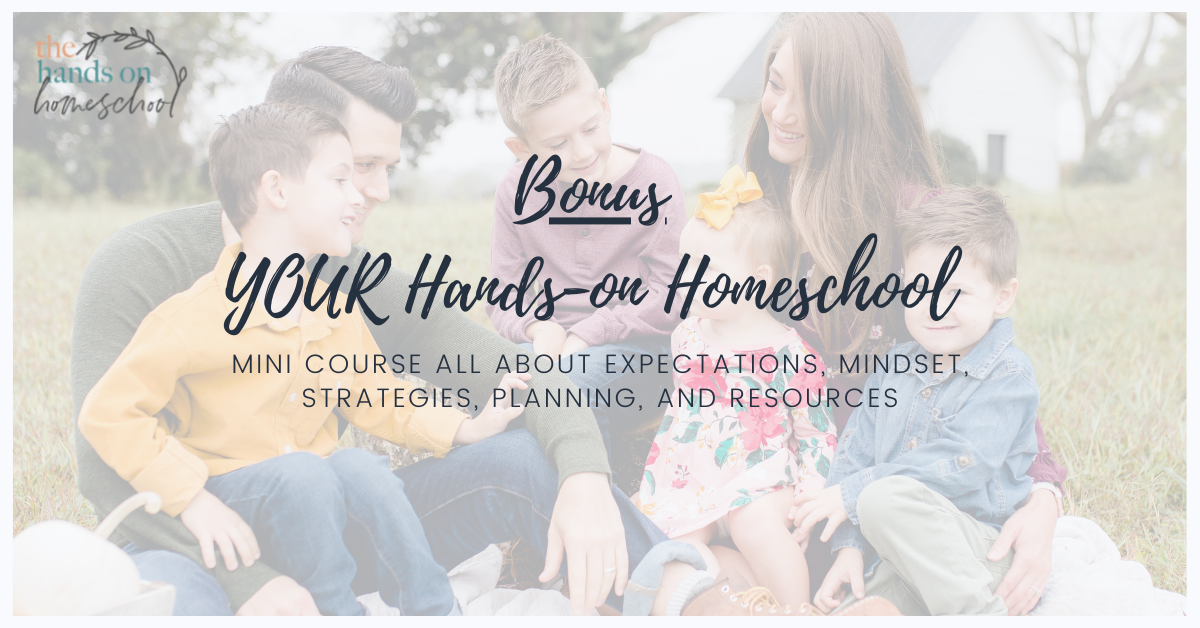 Your Hands-on Homeschool Mini Course
This mini Course will help you with ...
Expectations and Mindset

Go Deeper with Hands-on Learning Framework

Hands-on Resources and Strategies

Planning and Scheduling ideas to simplify and make your days FLOW
Frequently Asked Questions
How long do the classes take?
Most of our classes are between 20-30 minutes to watch. Sometimes the lessons have activities that extend beyond the class. You can choose how or when to do those activities.
How many kids can participate at a time?
The program is developed to be done family-style. All of your kids (specifically those in K-8) will do these classes and activities together.

Please contact us for pricing if you would like to use this program in your homeschool co-op or school
How much is the program?
The full program is available for the whole family for $37/mo, $119/quarter, or $397/year (best value). This includes our entire library of Music, Art, STEM and PE classes.
How do I cancel?
You can easily manage your subscription inside the program. There is a video and text to walk you through this in our Getting Started area. 
When does the program start?
You will have immediate access to everything in our Enrichment Program. You will lose access when you cancel your subscription.
Do you offer individual classes?
We do! However, it is our belief that all kids need a good education in all of these enrichment areas, so we always suggest starting with a month of the Virtual Enrichment Program and then deciding if the Virtual Enrichment Program or Individual Classes is right for your family.
I run a Co-op or School. How can we get access for all of our students?
Absolutely! We offer a special co-op/school price that will give your students access both at co-op/school and at home. Please contact us at

[email protected]

for pricing.
You don't have to homeschool alone.
Allow our EXPERT teachers to help YOU Enrich your Homeschool.
Introducing Some of Our Teachers!
Meet the teachers your kids will have during Year 1 of our Virtual Enrichment Program!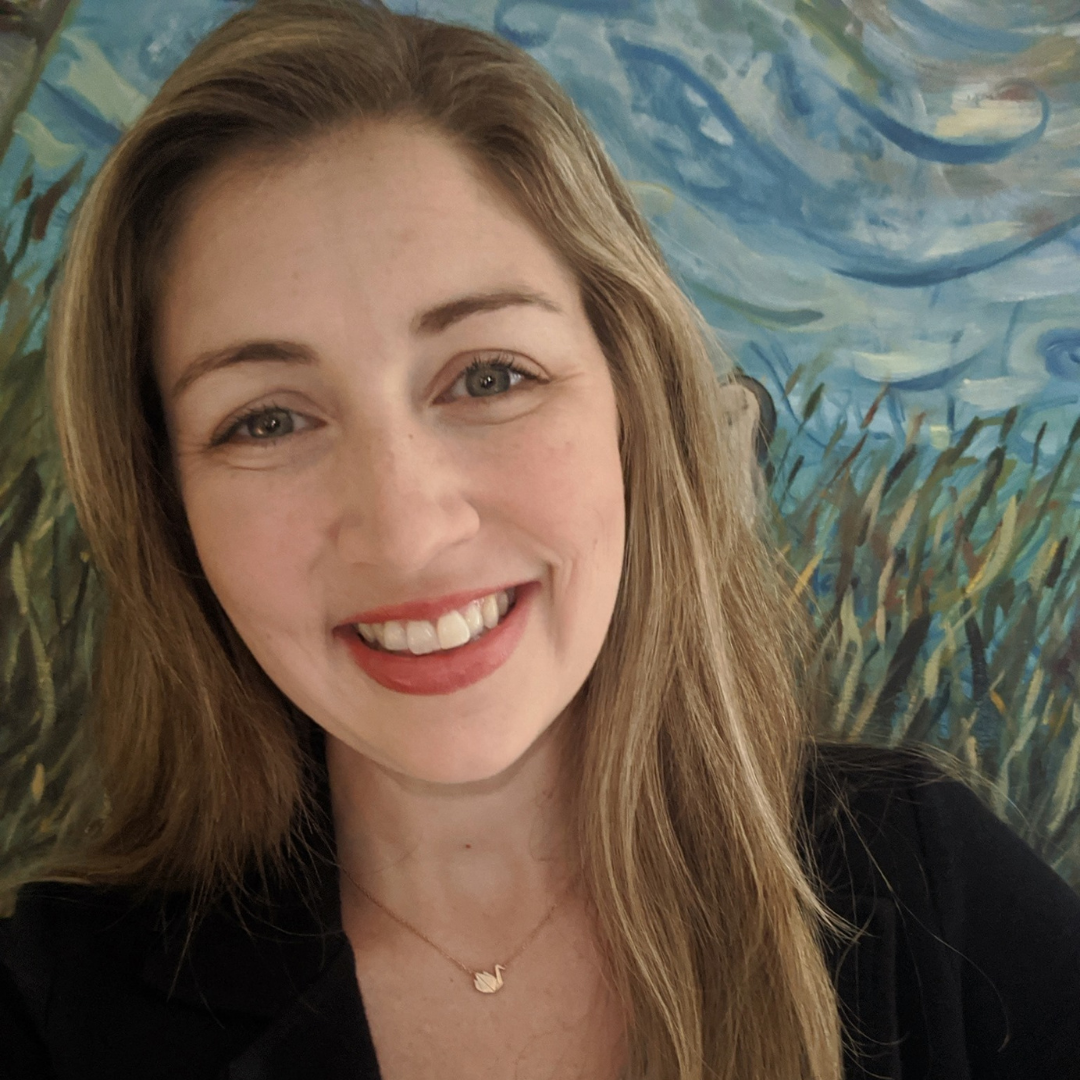 With a BS in Art Education Specializing in Painting and Drawing, Kathryn is a licensed K-12 art teacher and taught in the public school system in both South Carolina and Ohio for a total of 8 years. Kathryn then went on to manage an art gallery for 2 years while teaching private lessons for all ages and painting commissioned pet portraits in her spare time. Her family now resides in Pennsylvania where she is a stay at home mom still painting when she can.
ART
In each lesson, Kathryn will focus on one or more of the elements and principles of design while creating a fun step-by-step project that can be adapted for any age/skill level! Students will also get to explore artists and culture from all over the world from past to present! Parents are encouraged to join in on the fun and create their own masterpiece! So grab your supplies and lets get started!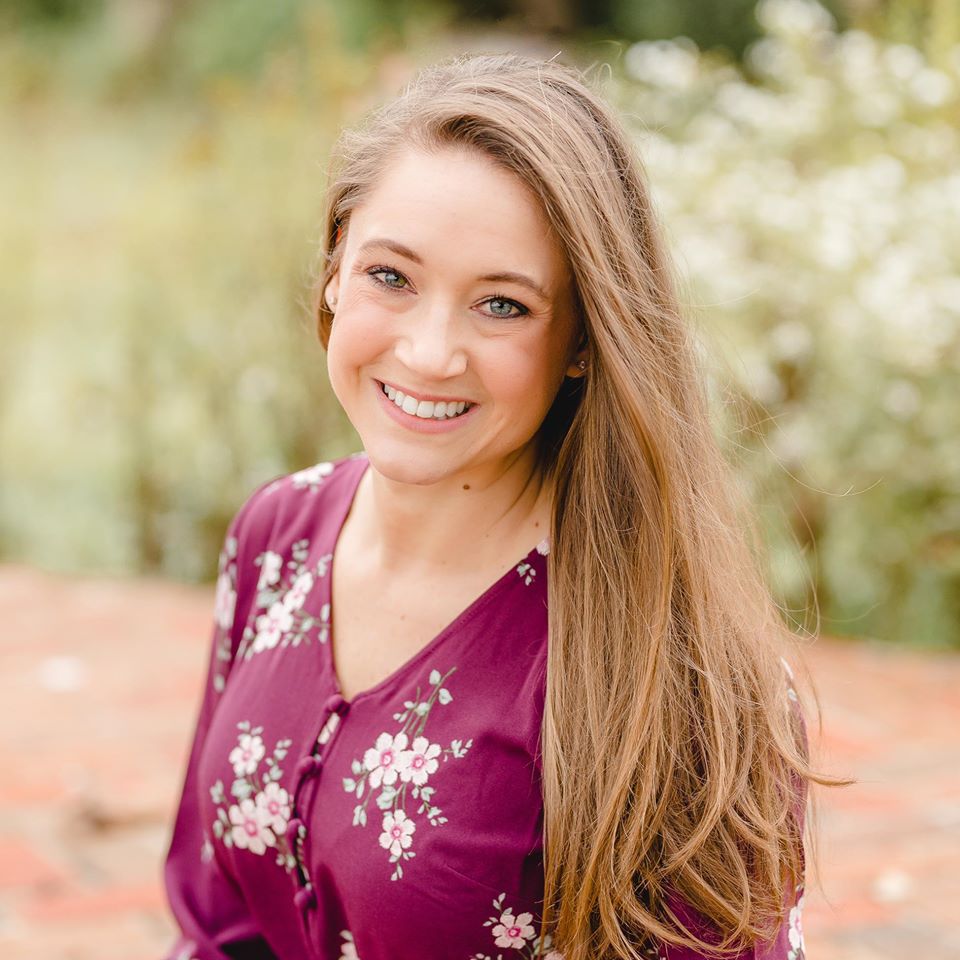 Rachel Figg, Music and STEM
Rachel has her degree in Music Education. She has over 20 years experience teaching private music lessons, 7 years experience teaching music in public schools, and 5 years homeschool experience.
MUSIC
The curriculum she has developed focuses on learning the elements of music through the works of classical composers. Each lesson will include a composer study, instruction on the elements of music, and an application or response to the music.
STEM
Rachel has always loved science, technology, engineering, and math. She is the daughter and granddaughter of engineers who always encouraged her in her endeavors to take things apart and create new things. She will be using curriculum from Teach Outside the Box by Brooke Brown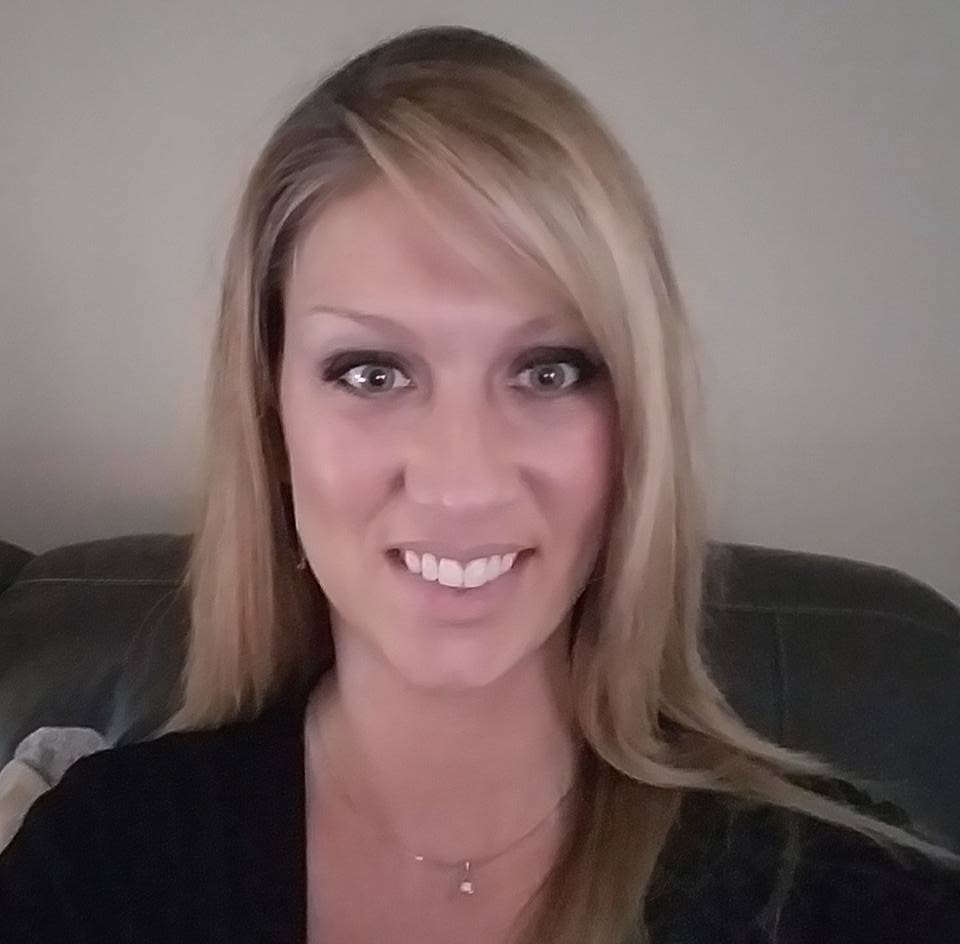 Katie Whitney, PE
Katie has a B.S. in health and physical education as well as a M.Ed in physical education. She has 15 years of experience teaching P.E, 6 years of teaching after school programs and 5 years of coaching experience. Currently she teaches K-5th grade PE. 
PE
The curriculum she has developed will focus on making your child a lifelong learner in physical fitness and personal health. Each lesson we will include a warm up, a skill and an activity. Students will also learn about different sports, athletes, and the bones and muscles of the body.
I CAN'T WAIT TO SEE YOU INSIDE
THE HANDS-ON HOMESCHOOL VIRTUAL ENRICHMENT PROGRAM